Division of Excellence in Research has set up three stages of research core of excellence as Group for Globally-advanced Research, Group for Research A, and Group for Research B, and laid out the framework of cultivation/support system for each stage of the research from the embryonic period through to the highest global standard.
Group for Globally-advanced Research(4 projects approved in FY2016)
This group is forming the global class core of excellence of advanced/ pioneering research that represents Kumamoto University and has the history of being selected as Global COE Program by MEXT in the past, and it has been cultivating the personnel who could take the lead in the world through the formation of globally advanced educational core of excellence.
Support will be provided for six years to make an evaluation that collate with the period of med-term goal/plan in Kumamoto University. Granted amount is approximately 10,000 thousand yen yearly per project.
Group for Research A, Group for Research B (FY2014-2016)
Pioneering research projects to create new values have been selected through open recruitment within campus, and based on the evidences, the global class research projects with high social evaluation are approved as "Group for Research A", and the research projects with the capability to aim for globally top-level research hereafter are approved as "Group for Research B".
As set by a rule, the support will be provided in the aspect of research environment such as human resources, funds, and the research space for the period of three years.
Group for Research A
Group for Research A (Starting from FY2014)
| Project | Leader |
| --- | --- |
| Creation of Research and Diffusion Center of Instructional Systems: Development and Diffusion of an Intensive Certificate Package to Train Education Specialists for Supporting Recurrent Adult Graduate Students | SUZUKI Katsuaki |
| Socio-Cultural Study based on the Daimyo Hosokawa's Historical Documents | INABA Tsuguharu |
| Creation of Research Center Group for the Study of Conflict Transformation and Consensus Building | ITO Hironori |
| Energy Materials Chemistry (EnMaCh) | MACHIDA Masato |
| Precise atomic level structure observation and physical property of condensed matter under extreme condition | YOSHIASA Akira |
| International Research Center on the Application of X-ray CT in Medicine and Engineering – X-Earth Center – | OTANI Jun |
| Materials science research using strong gravitational field | MASHIMO Tsutomu |
| Global Research Center for Structure-Based Drug Discovery | SUGIMOTO Yukihiko |
| Center for Sensorimotor & Neural Sciences in the Unprecedented Aging Society | TANIHARA Hidenobu |
| Research and Education Center for Metabolic Abnormality and Cancer | BABA Hideo |
| | NAKAGATA Naomi |
| Research Core of Human Data-Driven Drug Science | OHTSUKI Sumio |
Group for Research B (7 projects approved in FY2014)
Core of Excellence in Research Project has been supported in history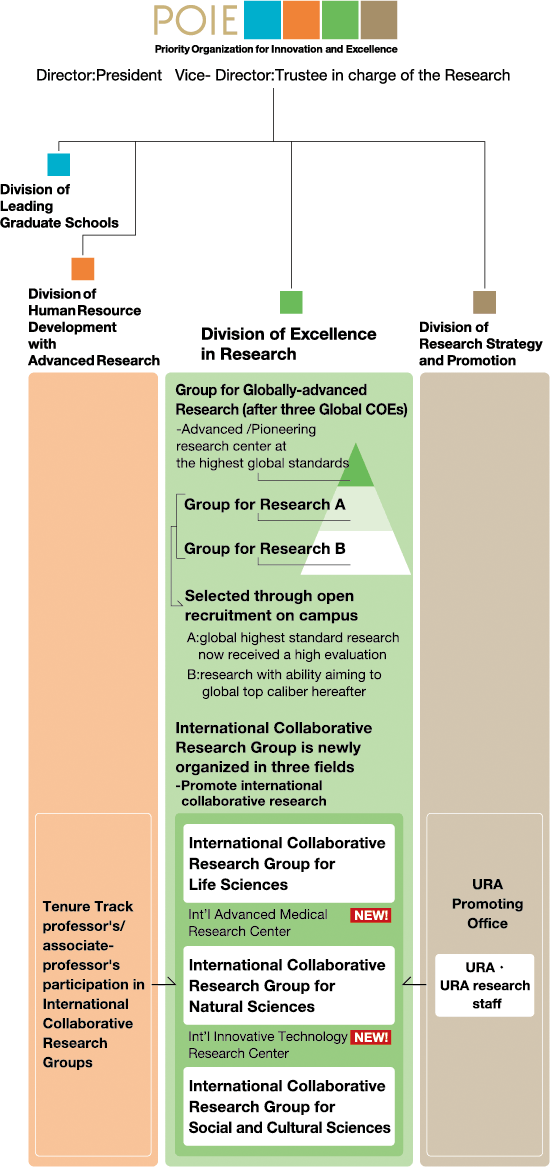 Furthermore, International Collaborative Research Groups for Life Sciences, Natural Sciences, and Humanities and Social Sciences have newly organized in POIE to promote international collaborative research after being selected for "The program for promoting the enhancement of research universities" in FY2013.
Each International Collaborative Research Group for Life Sciences and Natural Sciences will carry out the international collaborative researches such as Joint Lab at International Research Center for Medical Sciences (IRCMS) and International Research Center for Advanced Science and Technology (IRCAST).