Division of Excellence in Research has set up three stages of research core of excellence as Group for Globally-advanced Research, Group for Research A, and Group for Research B, and laid out the framework of cultivation/support system for each stage of the research from the embryonic period through to the highest global standard.
Group for Globally-advanced Research(4 projects approved in FY2016)
This group is forming the global class core of excellence of advanced/ pioneering research that represents Kumamoto University and has the history of being selected as Global COE Program by MEXT in the past, and it has been cultivating the personnel who could take the lead in the world through the formation of globally advanced educational core of excellence.
Support will be provided for six years to make an evaluation that collate with the period of med-term goal/plan in Kumamoto University. Granted amount is approximately 10,000 thousand yen yearly per project.
Kumamoto University Excellent Research Projects (FY2017-)
Kumamoto University Excellent Research Project aims to develop world-leading research areas that represent the potential of Kumamoto University. It focuses on nurturing researchers who are already highly successful in their respective fields so that they may pass their knowledge on to future generations.
Only the most highly evaluated projects are approved for the three-year funding support.
Project
Project Leader

Elucidation of the common mechanism between cancer and mental disorder through LINE-1 analyses

BABA Hideo

Next-Generation Drug Discovery Research Using Unique Libraries

SUGIMOTO Yukihiko

COE for Study on Japanese Early Modern History by comprehensive analysis of material of the Kumamoto Domain

INABA Tsuguharu

Research core for aging and healthy life expectancy

TOMIZAWA Kazuhito

The Molecular Agriculture
-From Kumamoto to the world-

SAWA Shinichiro

Development of functional materials using 2D-materilals

IDA Shintaro

Mechanisms of leukemogeneis by chronic infection and inflammatory stress: adult T-cell leukemia as a model

MATSUOKA Masao

Materials Interface Architecture towards Innovative Structural and Functional Materials

TSUREKAWA Sadahiro
Kumamoto University Challenging Research Projects (FY2017-)
Bold research projects with the potential for revolutionizing established concepts and changing the direction of academia fall within the framework of Kumamoto University Challenging Research Projects. These programs aim to revitalize research that may represent the future of Kumamoto University and are funded for one year.
Project
Project Leader

Development of the insulin-delivery system for oral administration

ITO Shingo

Development of tumor therapy by lactic acid bacteria.

ITO Naofumi

Spatiotemporal control and imaging of the cell through photo dimerization of anthracene-modified DNAs

IHARA Toshihiro

Identification of "critical point" of schizophrenia onset induced by the dysfunction of cortical GABAergic neurons

ESUMI Shigeyuki

Development of antimetastatic drugs targeting cancer-associated sugar chains

OTSUBO Kazuaki

Analytical system for the quantification of unknown compounds

OHIRA Shinichi

Creating a bio-inspired surface on artificial materials
-A strong impact on the market-

NAKANISHI Yoshitaka

Application to novel cancer therapy by macrophage activation using biomaterial particles

NAKASHIMA Yuta

Physical property of liquid Fe alloys under Earth's core pressures

NAKAJIMA Yoichi

Developments of ammonia combustive decomposition catalysts composed of novel compounds

HINOKUMA Satoshi

Ligand discovery for ex vivo expansion of human hematopoietic stem progenitor cell

MASUDA Takeshi

Development of a novel biomimetic DDS for improvement of healthy life expectancy and its application to sarcopenia treatment

MARUYAMA Toru

Therapeutic approach to cancer and life-style disease based on the study with Down Syndrome aneuploidy model.

MINAMI Takashi

Targeting the Hippo intracellular signaling pathway for cancer immunotherapy

MOROISHI Toshiro

Understanding exosome-mediated malignant progression and the application for diagnosis in lung cancer

YAMAGUCHI Tomoya

Research on innovative MR-imaging technique for quantitative image diagnosis of neurodegenerative disorders

YONEDA Tetsuya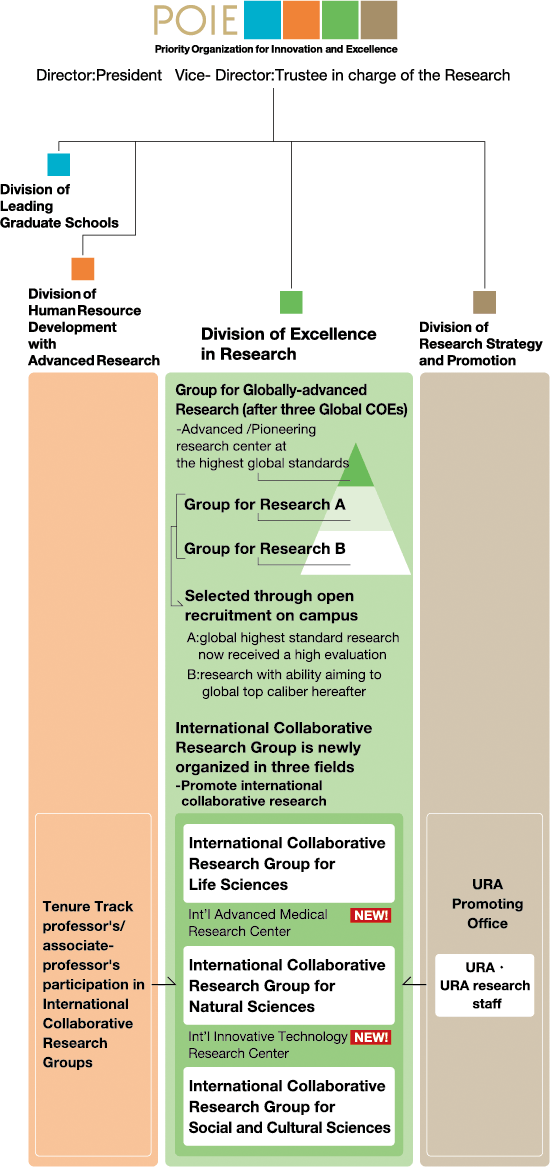 Furthermore, International Collaborative Research Groups for Life Sciences, Natural Sciences, and Humanities and Social Sciences have newly organized in POIE to promote international collaborative research after being selected for "The program for promoting the enhancement of research universities" in FY2013.
Each International Collaborative Research Group for Life Sciences and Natural Sciences will carry out the international collaborative researches such as Joint Lab at International Research Center for Medical Sciences (IRCMS) and International Research Center for Advanced Science and Technology (IRCAST).