Division of Excellence in Research has set up three stages of research core of excellence as Group for Globally-advanced Research, Group for Research A, and Group for Research B, and laid out the framework of cultivation/support system for each stage of the research from the embryonic period through to the highest global standard.
Group for Globally-advanced Research(4 projects approved in FY2016)
This group is forming the global class core of excellence of advanced/ pioneering research that represents Kumamoto University and has the history of being selected as Global COE Program by MEXT in the past, and it has been cultivating the personnel who could take the lead in the world through the formation of globally advanced educational core of excellence.
Support will be provided for six years to make an evaluation that collate with the period of med-term goal/plan in Kumamoto University. Granted amount is approximately 10,000 thousand yen yearly per project.
Kumamoto University Excellent Research Projects (FY2017-)
Kumamoto University Excellent Research Project aims to develop world-leading research areas that represent the potential of Kumamoto University. It focuses on nurturing researchers who are already highly successful in their respective fields so that they may pass their knowledge on to future generations.
Only the most highly evaluated projects are approved for the three-year funding support.
Project
Project Leader

Elucidation of the common mechanism between cancer and mental disorder through LINE-1 analyses

BABA Hideo

Next-Generation Drug Discovery Research Using Unique Libraries

SUGIMOTO Yukihiko

COE for Study on Japanese Early Modern History by comprehensive analysis of material of the Kumamoto Domain

INABA Tsuguharu

Research core for aging and healthy life expectancy

TOMIZAWA Kazuhito

The Molecular Agriculture
-From Kumamoto to the world-

SAWA Shinichiro

Development of functional materials using 2D-materilals

IDA Shintaro

Mechanisms of leukemogeneis by chronic infection and inflammatory stress: adult T-cell leukemia as a model

MATSUOKA Masao

Materials Interface Architecture towards Innovative Structural and Functional Materials

TSUREKAWA Sadahiro
Kumamoto University Challenging Research Projects (FY2017-)
Bold research projects with the potential for revolutionizing established concepts and changing the direction of academia fall within the framework of Kumamoto University Challenging Research Projects. These programs aim to revitalize research that may represent the future of Kumamoto University and are funded for one year.
Project
Project Leader

Targeting post-translational modifications of mitochondrial proteins for therapeutic applications

ARIMA Yuichiro

Development of blood-brain barrier-permeable delivery systems for treatment of neurodegenerative disease using

ITO Shingo

Study of establishment for stem cell pluripotency by ribosome

ITO Naofumi

Development of a next-generation nucleic acid medicine
for treating rare disease

KATSUDA Yosuke

Elucidation of the personality formation mechanism

KURAUCHI Yuki

Selective neural circuit stimulation for satisfaction in mice

TAKEMOTO Makoto

Crystallographic analysis of an enzymatic reaction involved in genome maintenance

NAKAMURA Teruya

Microbial signal regulates crosstalk between bone marrow and other organs in early hematopoiesis

HAYASHI Yoshikazu

Control of surface phenomena in hybrid structure based on 2D materials

HARA Masahiro

Development of unique therapeutic strategy based on metastatic organotropism formed by circulating tumor cell and endothelial cell interaction

MURAMATSU Masashi

Identification of tethering complex of organelle contact sites

YAMAMOTO Masatoshi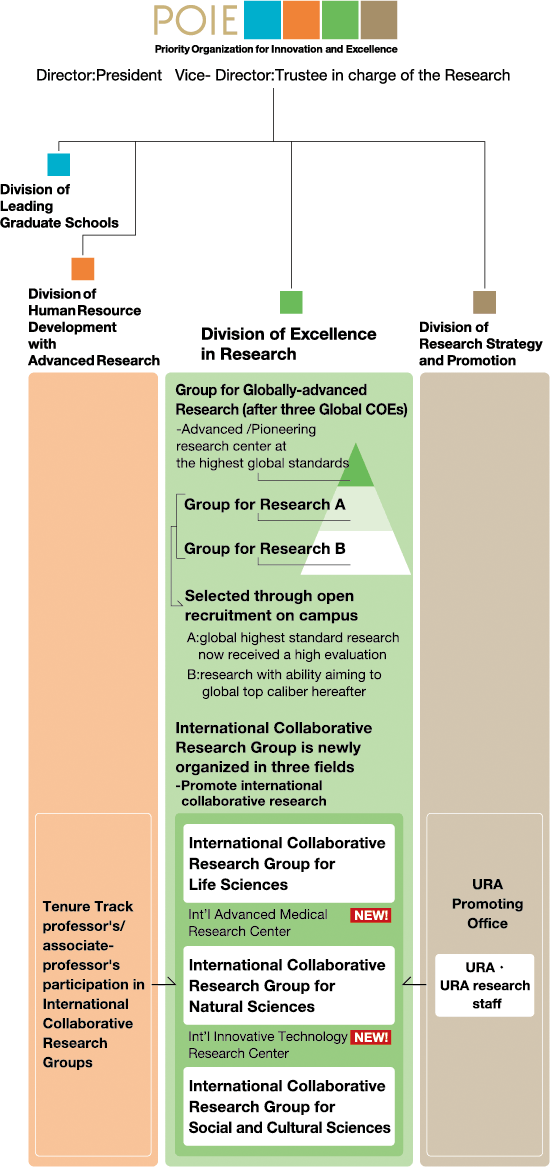 Furthermore, International Collaborative Research Groups for Life Sciences, Natural Sciences, and Humanities and Social Sciences have newly organized in POIE to promote international collaborative research after being selected for "The program for promoting the enhancement of research universities" in FY2013.
Each International Collaborative Research Group for Life Sciences and Natural Sciences will carry out the international collaborative researches such as Joint Lab at International Research Center for Medical Sciences (IRCMS) and International Research Center for Advanced Science and Technology (IRCAST).