Division of Excellence in Research has set up three stages of research core of excellence as Group for Globally-advanced Research, Group for Research A, and Group for Research B, and laid out the framework of cultivation/support system for each stage of the research from the embryonic period through to the highest global standard.
Group for Globally-advanced Research(4 projects approved in FY2016)
This group is forming the global class core of excellence of advanced/ pioneering research that represents Kumamoto University and has the history of being selected as Global COE Program by MEXT in the past, and it has been cultivating the personnel who could take the lead in the world through the formation of globally advanced educational core of excellence.
Support will be provided for six years to make an evaluation that collate with the period of med-term goal/plan in Kumamoto University. Granted amount is approximately 10,000 thousand yen yearly per project.
Kumamoto University Excellent Research Projects (FY2017-2021)
Kumamoto University Excellent Research Project aims to develop world-leading research areas that represent the potential of Kumamoto University. It focuses on nurturing researchers who are already highly successful in their respective fields so that they may pass their knowledge on to future generations.
Only the most highly evaluated projects are approved for the three-year funding support.
| Project | Project Leader |
| --- | --- |
| Core of excellence for Japan modern history through the comprehensive analysis of the document group of Kumamoto domain relations | INABA Tsuguharu |
| Novel Mechanisms of Aging by Mitochondrial Homeostasis | OIKE Yuichi |
| Identification and formulation of innovative drug seeds based on 'Kumadai' library | SUGIMOTO Yukihiko |
| Clarification of the molecular mechanism for metabolic reprogramming of diseases and establishment of new treatment strategy | BABA Hideo |
| Development of Two-Dimensional Functional Materials | HAYAMI Shinya |
| Pathogenesis of HTLV-1 associated diseases and development of new therapies | MATSUOKA Masao |
Project
Project Leader

Elucidation of the common mechanism between cancer and mental disorder through LINE-1 analyses

BABA Hideo

Next-Generation Drug Discovery Research Using Unique Libraries

SUGIMOTO Yukihiko

COE for Study on Japanese Early Modern History by comprehensive analysis of material of the Kumamoto Domain

INABA Tsuguharu

Research core for aging and healthy life expectancy

TOMIZAWA Kazuhito

The Molecular Agriculture
-From Kumamoto to the world-

SAWA Shinichiro

Development of functional materials using 2D-materilals

IDA Shintaro

Mechanisms of leukemogeneis by chronic infection and inflammatory stress: adult T-cell leukemia as a model

MATSUOKA Masao

Materials Interface Architecture towards Innovative Structural and Functional Materials

TSUREKAWA Sadahiro
Kumamoto University Challenging Research Projects (FY2017-)
Bold research projects with the potential for revolutionizing established concepts and changing the direction of academia fall within the framework of Kumamoto University Challenging Research Projects. These programs aim to revitalize research that may represent the future of Kumamoto University and are funded for one year.
| Project | Project Leader |
| --- | --- |
| Investigation and solutions of problems on application of deep learning to issues in earth science | ISHIDA Kei |
| Development of innovative band filling control method for organic crystals by protons and creation of novel electronic properties | UEDA Akira |
| Study on the biological role of the Golgi fragmentation during cellular senescence | ETO Kan |
| Multi-rate control for various length of periodic sensing and control | OKAJIMA Hiroshi |
| Elucidation and control of the mechanisms of organ aging based on altered mitochondrial homeostasis | KADOMATSU Tsuyoshi |
| Development of new treatment strategy for multiple myeloma by multiomics | KAWANO Yawara |
| Elucidation of the biological system that converts barometric pressure information into brain temperature | KURAUCHI Yuki |
| Analysis in the functions of 3D chromatin structures in rapid innate immune responses | KUROTAKI Daisuke |
| Development of next-generation of therapeutic and prophylactic agents targeting innate immunity and metabolism | KOUWAKI Takahisa |
| Dynamics of rhizosphere microbiomes during endophytic symbiosis and parasitism | TSAI Yi Lun |
| Identification of biomarkers and development of its quantitative methods based on the age-dependent pathogenesis of wild-type ATTR amyloidosis | SATO Takashi |
| Development of polar functionality by controlling the arrangement of electron donor-acceptor molecules | SEKINE Yoshihiro |
| Elucidation and regulation of the mutant proteins using patient iPS cell-derived kidney organoids | TANIGAWA Shunsuke |
| Elucidation of Pancreatic beta cell aging mechanism by multi-omics analysis | TSUYAMA Tomonori |
| Implementing 'useful pedagogy' based on 'the metatheory system of pedagogy' | TOMANO Ittoku |
| Elucidation of the mechanisms of anti-tumor effect of butyrate-producing gut microbe and development of a novel cancer therapy targeted at gut microbiome in advanced lung cancer. | TOMITA Yusuke |
| Understanding of Trisomy 8 hematopoietic stem cell regulation and transformation by using a new Trisomy 8 model | BAI Jie |
| Development of functional two-dimensional nanocarbon materials using epoxy carbon nanosheets | HATAKEYAMA Kazuto |
| Role of GATA6+ peritoneal cavity macrophages in perforated peritonitis | HONDA Masaki |
| "Acquired" pathogenic mechanism of "congenital" neutropenia | MORISHIMA Tatsuya |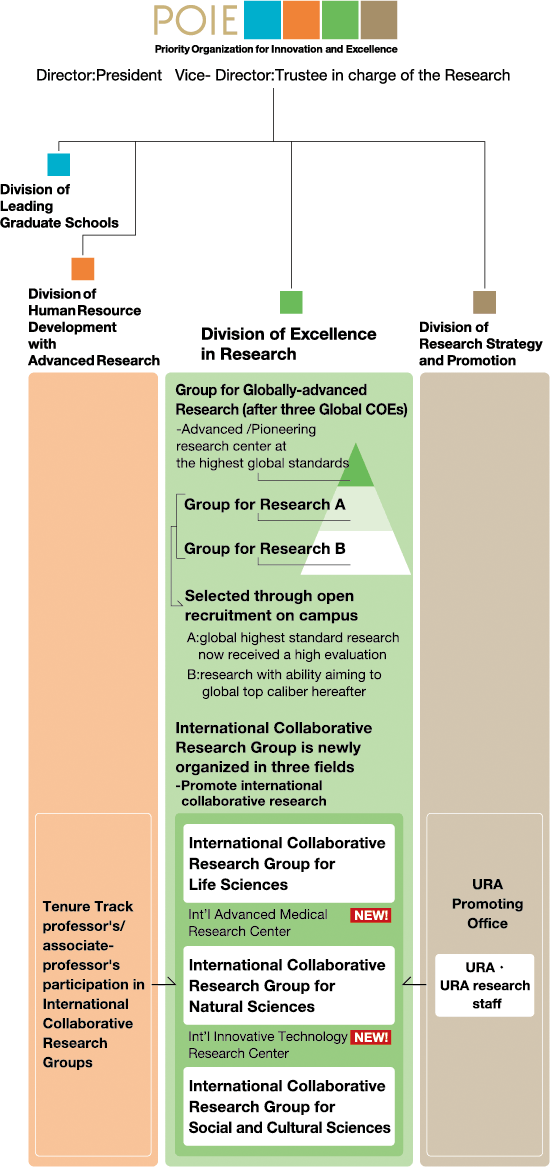 Furthermore, International Collaborative Research Groups for Life Sciences, Natural Sciences, and Humanities and Social Sciences have newly organized in POIE to promote international collaborative research after being selected for "The program for promoting the enhancement of research universities" in FY2013.
Each International Collaborative Research Group for Life Sciences and Natural Sciences will carry out the international collaborative researches such as Joint Lab at International Research Center for Medical Sciences (IRCMS) and International Research Center for Advanced Science and Technology (IRCAST).