KU - URA Office
---
Jump to:
Kakenhi Brushup Support (Closed)
Kakenhi Feedback Support (Open)
---
(En) Kakenhi Brushup (by URAs)
FY2020 Kakenhi Brushup Support Application Deadline:
2019.09.30
URA brushup support is primarily for Early-Career Scientist and Kiban (C) grant types but other types are accepted as requested. Brushup support will check English grammar, application composition and formatting in detail, and provide advice for improvement.
General Brushup Areas:
Readability
Logic
Research Structure
Research Environment (as it relates to the execution of the proposed research)
◆How to apply:
Application URL (preferred)

:

https://forms.gle/E4cCDYv4qTHds2fb6 (Will return in Sept.)

*The link (and password) to upload your application is in the link above.

Requests can also be made by email:
--------------------------------------------------------
Send your application to the URA Office, External Funding Support:
gaibushikin-shienjimu.kumamoto-u.ac.jp
--------------------------------------------------------


◆Please send your application as a Word file.

◆Include all application pages including the budget details if possible. Blank sections will be returned with requests to fill in as appropriate.
The URA responsible for checking your application will return it to you upon completion.
---
(En) Kakenhi Feedback for Unsuccessful Applications
The URA Office provides a Kakenhi feedback service for previously unsuccessful Kakenhi applications.
Target Persons:
Researchers who applied for Kakenhi last year but did not receive funding and will apply again this year.


Target Grant Types:
Primarilary Kiban (B or C)(General) & Early-Career Scientists.
Other types may be assessed upon request.


Support Request Procedure:
Please follow the instructions in the URL below. If you have any problems, feel free to email us to request support at gaibushikin-shienjimu.kumamoto-u.ac.jp


Application URL:

https://forms.gle/mwjTrdatbYcqZop46

*The link (and password) to upload your application is in the form.


If any part of the submission process is in Japanese and you need assistance, please contact a URA.
Please include your name in the file name of the upload documents.
After uploading the documents, be sure to click the "Send" button on the application screen to complete the submission.
The upload folder is in Kumamoto University's online storage service "Proself" and is WRITE-ONLY. Uploaded documents can only be viewed by URAs.

Return Method:
We will return your application forms with our comments and suggestions within 2 months after receiving your application.



We use the Word and/or PDF commenting functions when reviewing applications. If you are unfamiliar with these functions please see

this explanation

.

Feedback Open Period:
Anytime until the start of the new Kakenhi request for proposals.


Remarks:
Your Kakenhi results screen will be viewable until the end of November. We recommend saving as a PDF or printing your results at your earliest convience.


Notes:
You will receive notification of acceptance of your feedback request after we confirm the submitted documents. If you do not receive this notification within 3 days (excluding holidays) of making your request, please contact the URA Office.

URA Office - External Funds:
gaibushikin-shienjimu.kumamoto-u.ac.jp
---
(NOTE: Figures are examples of Japanese applications but the instructions are still the same.)
Click on the red vertical line on the left or right edge of the document.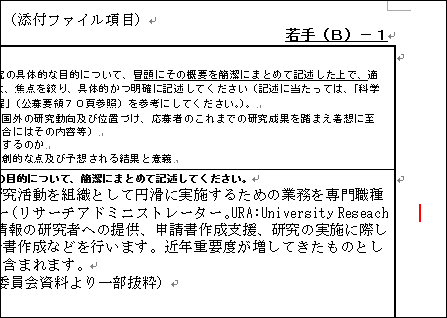 Any changes made to the document become visible.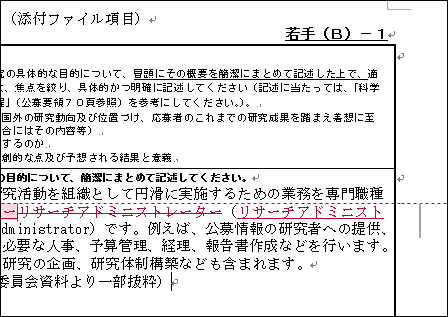 Any comments will be visible on the right side of the document.
If you see only a bubble, clicking on it should reveal the comment.
You can accept or reject (2) any modifications by using the options in the Review Tab (1).

Corrections and/or comments will (usually) be highlighted in yellow. If multiple URAs have checked the application, they might use different highlight colors between them. Use the comment (aka annotation) tool to view those made by the URA Office.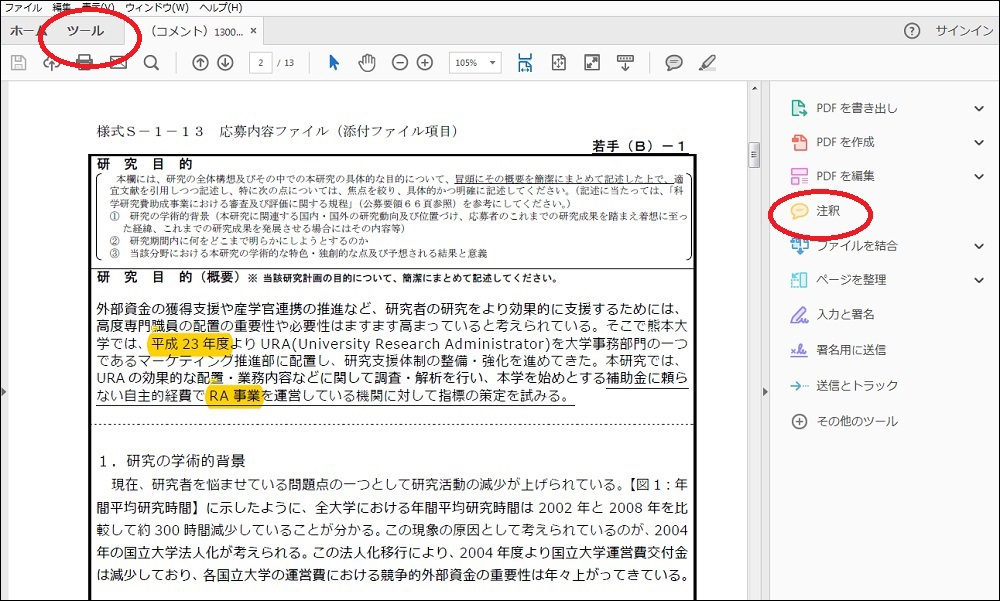 Comments will be displayed on the right.